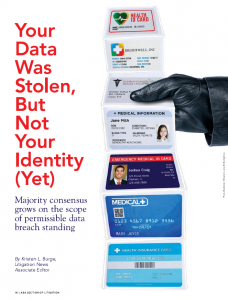 Your Data Was Stolen, But Not Your Identity (Yet)
by Kristen L. Burge

Cyberattack victims can sue data custodians despite not suffering actual identity theft.  In determining the plaintiff's standing, a growing majority of circuit courts now turn to the nature of stolen data to determine whether the victims experience a "substantial risk" of identity theft.
The U.S. Court of Appeals for the Federal Circuit joined the majority approach – followed by the Sixth, Seventh, and Ninth Circuits – holding that victims alleging personal data theft, including medical identification numbers, have standing to pursue their claims.
A minority of circuits, on the other hand, require data breach compromises…read entire article